We Write Job Ads That Increase Qualified Applicant Flow
Proven. Tested. Guaranteed.
We know. You want eyeballs. And clicks. But most of all: qualified applicants.
When you post your job ad matters a LOT less than what job ad you post. But companies still think they can attract great candidates using only bleh job ads.
We know the best job ads follow a particular formula for success. Part emotion, part snapshot, part science, long on the unique benefits available to candidates and short on the boring legalese. Our job ad writers consistently write all-new and rewrite existing job ads into compelling, 100% unique, enticing job ads that get seen, clicked, and converted into applications. Don't believe us or our customers getting 50-200% more candidates? Try it. If you're not happy, we'll refund your money. Guaranteed.

"...we have received WONDERFUL feedback regarding the job descriptions ApplicantPro has put together for us... You have truly made the hiring process so much easier."
-Veronica Richardson, SWi LLC
Talk is cheap. Data reigns supreme.
After implementing one of our custom, optimized job ads, Brody Brothers Quality Pest Control saw a 235% increase in applicants. Completed applications went from 85 to 238 simply by us enhancing their job ad. Also, take a look at how our job ad performed head-to-head against Esco's job ad for the same position.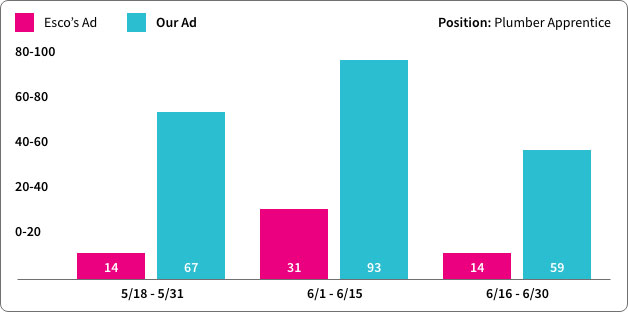 Commonly Asked Questions:
Within 3 business days, our experts will craft a new, compelling, SEO-friendly job ad designed to stand out and get more applicants. You review it, we revise it if necessary—and that's it! Oh, and we'll also send you some suggested job screening questions because going above and beyond is--well, it's kind of our thing.
Less than you'd think for complete peace of mind. Our experts will write a new or re-write an existing job ad for only $99. You may also occasionally see promo codes available online or via email.
Yes! Each job ad is a one-time cost.
Did You Know?
Major job boards like Indeed and CareerBuilder rank jobs posted to their site just like Google ranks the entire web. What does it mean to rank job ads though? When you post an ad, the job boards analyze your job ad's value and reliability and determine where it should rank in search results. They do this by analyzing keywords, your industry, the position, your location, etc. But, guess what? We've cracked the code on job board ranking and write all job ads to perform best by including must-have keywords, avoiding jargon and unnecessary abbreviations, ensuring your location listing is ideal and much, much more.